---
BAKER-NORD SCHOLARS IN THE HUMANITIES: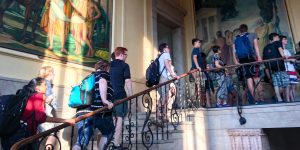 2017-2018 Baker-Nord Scholars in the Humanities:
Austin Amadio
Kyle Barclay
Harrison Bloom
Ben Bulpitt
Hannah Clarke
Izzy Davidson
Nick Forbes
Jared Goff
Will Huffmyer
Serena Juchnowski
Nandita Kannapadi
Sonny Kim
Cassandra Knaggs
Jennifer Marer
Chris Markham
Paul McCabe
Morgan McCommon
Marika Meijer
Chloe Mieras
Aparna Paul
Meredith Roach
Jeremy Rodrigues
Jack Schubert
Aleksa Sorgatz
Katie Toledo
Kasey Vangelov
Bailey Weir
Sydney Wilson
---

2016-2017 Baker-Nord Scholars in the Humanities:
Emily Ahidtrom            
Lauren Dostal                
Tamara Herst
Mark Hornyak
Claire Howard
Hanna Kadlec
John McDonald
Richard Pannullo               
Andrew Shin
Zachary Tirgan
The purpose of the Baker-Nord Scholars in the Humanities program is to integrate incoming students into the life of the Humanities community at CWRU, offering them the benefits of a small liberal arts college within a leading research university.  It is intended to supplement their experience within the department of their future major and foster interdisciplinary connections across the campus and the community, including the rich cultural resources of Cleveland.  Students accepted into the program will be designated "Baker-Nord Scholars in the Humanities," a designation that they will retain along with program benefits, for as long as they maintain good academic standing and proceed in a timely manner to declare a major in one of the affiliated Humanities departments.
Students who accept a place in the program will receive the following benefits:
Guaranteed enrollment in a Fall-semester, 1-credit hour, pass/fail course, Humanities 101 "Colloquium in the Humanities." Enrollment will be limited to BNC Scholars.
Participation in the Baker-Nord Scholars Fellowship Program, offering students a $500 fellowship in support of their advanced research in the Humanities.
Second-level advising in the Humanities and career opportunities through the Baker-Nord Center in addition to their regular academic advisors.
Special opportunities to meet with visiting scholars and lecturers as part of the Baker-Nord Center's regular programming.
The opportunity to plan an event aimed at undergraduates as part of the Cleveland Humanities Festival (case.edu), to be held in the following Spring and funded by the Baker-Nord Center. 
---
HUMANITIES@WORK:
Humanities@Work: Media
Date: January 30, 2017
Location: Clark Hall Room 206, 11130 Bellflower Road
Panelists discuss how studying the humanities influenced their careers and answer questions from the audience. Panelists include:
Carlo Wolff (Boston University '68) majored in English. He contributes news stories and features to the Cleveland Jewish News and writes book reviews for the Pittsburgh Post-Gazette and music reviews for DownBeat. He is the author of Cleveland Rock & Roll Memories (2006), and between 1990 and 2008 worked at Lodging Hospitality, a former Penton Media magazine where he was a longtime Features Editor.
Chris Sheridan (Yale '89) majored in history. After graduation, she spent nearly two decades writing about education as a reporter and editorial writer in Connecticut and Cleveland before coming to Case Western Reserve in 2007 as President Snyder's Chief of Staff. In 2011 she became Vice President for Marketing and Communications and Senior Advisor to the President.
Enrique Correa (Syracuse '92) majored in history and political science. He is a multimedia journalist at Cleveland's TV20, reporting on local events and performing public service announcements. He previously worked for FOX8 in Cleveland, as an entertainment reporter for BET Nightly News in Manhattan and at several stations in the New York City market.
Dan Moulthrop (UC Berkeley '95) majored in English. CEO of The City Club of Cleveland and co-editor of Race Anthology: Dispatches and Artifacts from a Segregated City (2016), he helped to found Civic Commons, a Knight Foundation project creating a social media environment designed for civil civic dialogue. He has also worked as an on-air host and producer for WCPN and WVIZ and as a high school teacher.
View a recording of the event HERE.
---
Humanities@Work: Food
Date: November 14, 2016 
Location: Clark Hall Room 206, 11130 Bellflower Road
Panelists discuss how studying the humanities influenced their careers. Panelists include:
Patrick Conway (Loyola University Chicago, '74) majored in Urban Studies. He founded the Great Lakes Brewing Company with his brother Dan in 1988.
Noelle Celeste (Yale '92) majored in American Studies. She is Director of Advancement for The City Club of Cleveland and Publisher of Edible Cleveland.
Todd Thompson (Kent State '95) majored in English. He is Director of Operations and Sommelier at Fire Food and Drink.
Nolan Konkoski (Siena College '05) majored in English. He is the chef and owner of Soho Kitchen and Bar with his partner Molly Smith.
Dinner will be served. Registration requested.
---
Humanities@Work: Sports
Date: September 19, 2016
Location: Clark Hall Room 206, 11130 Bellflower Road
Panelists discussed how studying the humanities influenced their careers. Panelists included:
Amy Backus (Central Michigan University '79) majored in education with a minor in English. She is Director of Athletics and Chair of Physical Education at CWRU.
Peter Carfagna (Harvard '75) majored in Classics. He is currently Chairman and CEO of Magis, LLC, a sports marketing, consulting and investment firm, with family ownership of the Lake County Captains, Cleveland Indians Class A Affiliate. He is also Co-Director of Case Law School's Great Lakes Summer Sports and Entertainment Law Academy, and regularly teaches sports law marketing at Harvard, CWRU, Cleveland State and the University of Miami.
Alan L. Panteck (John Carroll University, '98) majored in Latin and Biology. An orthopedic surgeon at the Center of Orthopedic Surgery in Garfield Heights and Parma, he is also Team Physician for St. Ignatius High School.
---
UNDERGRADUATE STUDENT FUNDING OPPORTUNITIES:
Maximum Award: $250
Application Deadline: Applications are accepted on a rolling basis during the academic year.
Grants are available to undergraduate students in any of the departments affiliated with the Baker-Nord Center (Art History, Classics, English, History, Modern Languages, Music, Philosophy, Religious Studies, and Theater) to help defray expenses associated with a senior thesis or other research project not covered by departmental funding. Examples of eligible funding include, but are not limited to: travel to a collection; purchase of research materials; training in digital scholarship; server space; software; books or other materials.